I haven't posted all week for the same reason I haven't knitted. My grandfather went into hospital with an post-stroke infection. Since he's been in he's got better in someways and worse in others. The stroke was worse than we thought, but that's now ok. So all I have been doing this week is working, going to the hospital and going home to eat and sleep. So not much knitting to report.
But here is a photo of the lace scarf as promised.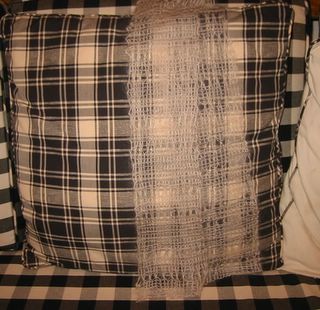 Go
Here
for a close-up.
However today and Tuesday I returned home from the hospital to find the following:

The one on the right is a close up of some possum and merino yarn I received in a swap with Kozmic from the Knittyboard. It is an amazing forest green.
And on the left..... Today saw the arrival of the package from Ali. (Yeh it arrived!!!!) Ali was getting worried. The wool is a second ball of the original RAK yarn so I can make a second two-needle sock so my single can have a partner. And she included some cute colourful emeryboards in a matchbook-like form- purfect for the purse! The green lid is some yummy smelling lip gloss, Kiwi and Strawberry flavour. Talk about spoilt.
They have given me some smiles and relief in an otherwise bad and stressful week. Thanks guys!!