Over the weekend i was a busy little worker bee but still got some knitting done.
Here is the before and after shots of my unfeltable bag- by the looks it has shrunk about an inch so maybe it worked a little.
the felted fiasco
in other felting news i found some big kureyon and made a mini-tote - see
here
.
I also felted a swatch of Jo Sharp Silkroad aran- it worked extremly well, even in my front loader machine. I lost 2cm in lenght on the first wash, none on the second- and width-wise i lost 2.5cm first, and another half a cm 2nd wash. So i may have to do a felted project with this yarn now that i know the finished dimensions.
btw- the swatch was 15stitches by 14 rows on 8mm needles.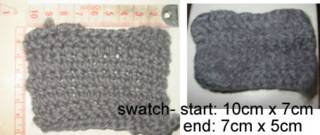 I am still plodding away on my top but am also starting a
sophie bag
from that yummy kureyon i got the other day.
ps: no S&B Nation in the post today- however they have all week to deliver it before i start foaming at the mouth.
pps: on friday my parcel from canada from a swap with
carole
arrived- interweave magazine from winter and spring. Sooooo many good patterns- i now have a reallly reallly long future projects list!!