Look what arrived in the post today!
It came with a great card (no photo sorry!) from my SP with a quote I must share:
Friendship is not a big thing... It is a million little things.

A truer word was never spoken.
I also went to my LYS today and bought some of this

(Rowan Kidsilk Haze in Pearl) in order to make this:
the airy scarf from
Last Minute Knitted Gifts
.
Also whilst browsing around the internet reading blogs, posts and gazing at yarn I could never afford (Lorna's Laces sock yarn just arrived at my LYS- AUS$19.95 for a small skein (the helen's lace is $85!!!))
I found a few interesting things. For filing under the: Would love to get a copy if the postage wasn't 3 times the cost of the item comes many a knitting notion (ie yarn gauges at US$2.50) and this: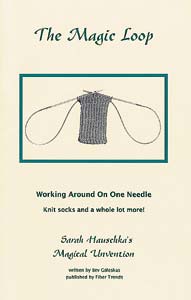 The Magic Loop book. US 7.95 (patternworks) Shipping US 19.00
hmmmmm
Also in the 2-cute category the
Marvin
doll from Hitchhiker's Guide to the Galaxy. Yes someone with too much time on their hands has created the knitted marvin from the scene in the movie.
And Yes I am thinking of knitting one!