This last week and a half have seen a hiatus on knitting. Why you ask- well work for one, and the heat- with temps hovering around the mid-30's (celcius) its been way to hot to do anything except lie in front of the aircon/fan and go to work (which has really really good aircon).
In other news my sophie bag for Tia has been cast on and bottomed, its looking small already- hopefully the cascade 220 won't shrink too much. My looooooooong winded WIP (skully from S&B) which has been sitting in the pile since last august has now got half a front to go with the back.
And look what arrived: my phildar magazines from
knit'n'tyme
and vogue knitting from saintjay! Yeh.
This has been the real reason for my lack of knitting. I am attempting to translate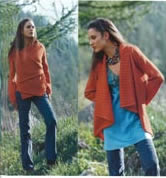 from the winter issue (top magazine) as it didn't come with english translations. Big Problem: I don't speak French. So if any one out there can help me by checking my translation efforts it would be most appreciated.
Problem 2: Discontinued Yarn. Also want to do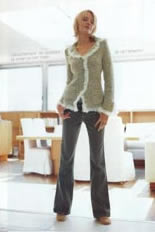 this pattern. Problem: whilst not being able to read french, the yarn is also no-where to be found. I have tried the 3 stores I know of that sell phildar yarn-
knit'n'tyme
,
briweb
and some other one in europe I cannot remember the name. So shops that still sell brumes in chaume are urgently in need of. HELP.
PS: nothing on ebay either- I checked- 3 times.
pps:Michelle- i learn't to knit at a very young age from my grandmother, but re-learnt last year at a workshop at
ivy and maude
(now Calico and Ivy) in cottesloe. They have moved to mosman park now but are just on glyde street.